Is Bankruptcy Help Still Available During The COVID-19 Pandemic?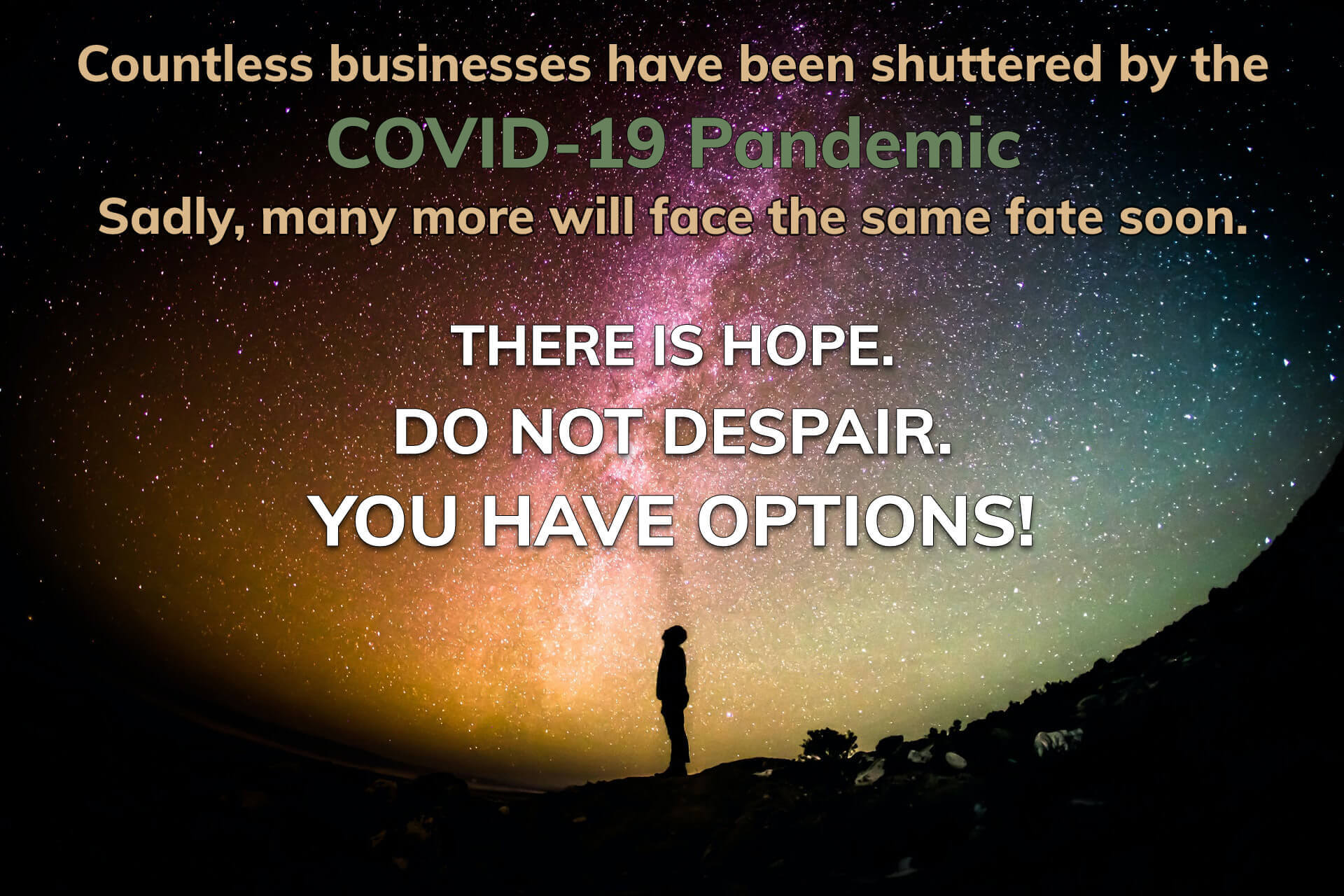 If you are thinking about filing bankruptcy, you are not alone.  American consumers will be filing personal bankruptcies in record numbers by the end of 2020.  That is the projection from bankruptcy attorneys, bankers and other experts who project that the COVID-19 era will lead to a historic financial tsunami.
It is highly likely that from the fall of 2020 for at least two more years, there will be millions of bankruptcies filed by people who have lost income because of this historic health crisis.  While government intervention may have delayed bankruptcy filings, at some point in time that support will end.  Many of us were kept afloat with a variety of government and business aids, such as $1,200 stimulus checks, $600 weekly federal unemployment payments, the Paycheck Protection Program, small business loans, a halt on foreclosures/evictions and forbearance on mortgage or credit card debt.  While the financial help given by the Federal Government has staved off some of the most devastating economic effects of COVID-19, that assistance may soon end.  State and local governments are not likely to offer more help because they are seriously cash strapped.  When that assistance disappears, and the moratoriums on foreclosures and evictions run out, lenders will start foreclosures, evictions, collections, repossessions, and garnishments.
While individuals like you and I have not yet begun seeking bankruptcy help, large companies and corporations have already been filing bankruptcy at a near-record pace.  When July began, nearly 100 companies with more than $100 million in debt had filed for Chapter 11 bankruptcy protection, according to the American Bankruptcy Institute. That puts this year on pace to become the second-highest total behind 2009.  What that means is that companies with major assets and expert management are determining that bankruptcy is their best option in this contracting economy.  That same option, i.e., bankruptcy debt relief, is available to all consumers as well.
Can Bankruptcy Help?
The short answer is "Yes", providing hope for all of us who are struggling right now.  It is important to know that during this extremely challenging (and honestly, scary) time, you can protect yourself and your family from creditors and debt collections by wiping out those debts through bankruptcy.
For individuals, there are two main types of bankruptcy:  Chapter 7 and Chapter 13:
Chapter 7 Bankruptcy
Of the two main types of bankruptcy, Chapters 7 and 13, you can think of Chapter 7 bankruptcy as simple, inexpensive, and quick. Most bankruptcies filed are Chapter 7s. From filing to finish is approximately 3-1/2 months; the attorney fee is very reasonable, and most importantly all your unsecured debt is discharged, i.e., wiped out. You get rid of credit card debt, medical bills, personal loans, and all other obligations. You do not lose any property, and your home, vehicles, and retirement are protected.
Chapter 13 Bankruptcy
Chapter 13 bankruptcy is sometimes referred to as "wage earner" bankruptcy or reorganization. Under Chapter 13 bankruptcy, clients work with their attorney to create a repayment plan of their debt. Some clients repay only a small percentage of their debt, often as little as 5%, while some plans require a larger payment. The length or term of the plan can last anywhere from 36 to 60 months, (3 to 5 years). And while the thought of being in bankruptcy for 3 to 5 years at first can sound daunting, most plan terms are shorter than a new car loan. Plus, if the Chapter 13 is saving your home, stripping off a 2nd mortgage, and wiping out credit card debt and tax debt, it often actually feels like a short and pain-free process. Many clients report that after the first few months, the bankruptcy plan payments feel like just another monthly bill, but one that ultimately provides huge benefits.
Chapter 13 bankruptcy protects all your property while offering flexibility in crafting solutions to major financial challenges.
This is the most chaotic financial environment that has existed in generations.  It is obvious that the COVID-19 pandemic is devastating the economy and destroying businesses' and families' finances.  There is no shame or stigma in filing for bankruptcy, especially now.  If businesses can't operate, and you can't work, the fact that there is an option that allows you to get rid of your debt and protect your property is one of the few rays of hope in this difficult time.  Bankruptcy is intended to give the honest debtor a fresh start. Individuals who have been affected by the pandemic are exactly the type of people that the Bankruptcy Code is intended to protect.
The Bankruptcy Courts Are Open
The United States Bankruptcy Court is open for electronic filings of bankruptcies. My office has remained open during this health crisis-it has never closed. We are operating a little differently, however, so that the health and safety of my clients, staff and myself are protected. What is different? First, all consultations, meetings, and document transmission are being done remotely. Communicating electronically not only protects you, and us, it is also turning out to be much more convenient and time-saving for clients. In fact, clients are telling me they love being able to do the whole bankruptcy process, start to finish, from the safety and privacy of their home or office. Second, the one and only hearing debtors are required to attend is now via telephone instead of by personal appearance at the Courthouse.
While going through the process remotely, you will still get the full benefit of working with an attorney that has 30 years of experience helping people get a fresh start through bankruptcy; you are carefully guided through every step of the process and represented from the first free consultation to the discharge of your debts and closing of the case; and you permanently wipe out your debts and are on your way to a healthy, secure financial future, all with the convenience of telephone, email, and Zoom communications.
Some last advice.  If you are out of work, hold on to your cash.  Spending savings to pay credit card bills and other debts that could be discharged in bankruptcy would be a terrible mistake right now. Be brave, pragmatic, and proactive.   Taking the positive step to learn more about bankruptcy and how it can help you and your family may be the best thing you can do to deal with the uncertainty of this challenging time.
If you are suffering with the practical, emotional, and psychological pain caused by overwhelming debt, give yourself the opportunity for a fresh start. Call an attorney who understands your situation, and who can give you expert advice. For 30 years, I have helped literally thousands of residents of Sonoma, Marin, Napa, and Lake Counties file bankruptcy and get a fresh start.
For a free consultation about your options, call the Law Offices of Brian Barta at (707) 542-2844