Strip Second Mortgage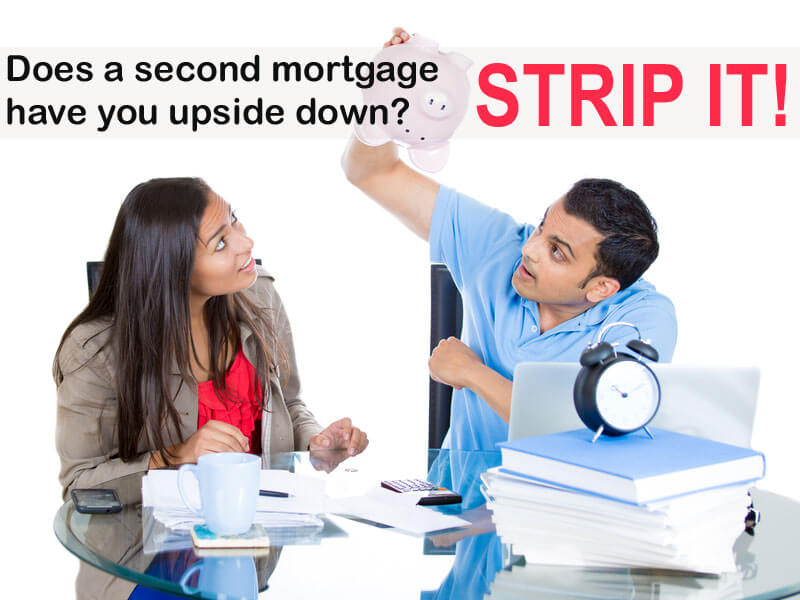 The ability to strip off a second mortgage in bankruptcy is one of the most powerful tools bankruptcy law provides. In a Chapter 13 bankruptcy you can strip off, or avoid, a second mortgage, home equity line of credit, or other junior lien and never owe a penny on that debt again. That means your obligation to pay back that second mortgage is permanently discharged, i.e. wiped out. The second mortgage lender can never try to collect from you after the Chapter 13 case is done. Also, and equally important, the lender must re-convey the second deed of trust back to you. This means you will no longer owe on your second mortgage, and there won't be a second lien on your home. All that results in your home equity increasing by the amount of the second mortgage you eliminated. For example, if you have a second mortgage with a $90,000 balance and you strip it off in a Chapter 13 bankruptcy, you will automatically have $90,000 more equity.
The enormous benefit of stripping off a second mortgage in Chapter 13 bankruptcy is that you increase your equity, get rid of the monthly payment, and ultimately have more financial security. And you are closer to protecting and owning the thing that is likely your greatest and most meaningful asset-your home.
To talk to an experienced bankruptcy attorney about the process of stripping off your second mortgage in bankruptcy, call Brian Barta for a free consultation at (707) 542-2844. Mr. Barta has been helping people become debt-free since 1992. Brian Barta has filed more bankruptcy cases for residents of Sonoma, Marin, Napa, Lake and Mendocino counties than any other bankruptcy attorney in Northern California-call to find out how bankruptcy relief can help you.